Get a Quote
More details? Use the RFP Form

In this highly competitive business environment we live in today, Companies are always looking for any edge to increase profits, technological advancements, funding, and an area often over looked, quality employee recruitment. Cloud 9 Limousine and Transportation with over 30 years of experience has continued to grow not only its fleet but its place as a Corporate Leader when it comes to providing innovative ideas for companies and their Employee Shuttle Programs.
The Employee Shuttle Program allows companies to use this service as a valuable resource for recruitment and at the same time employees understand that their company has taken a vested pro-active interest in their community, environment, commute and safety. This comes with the added benefit of maximizing employee productivity during their commute time. As a byproduct of this benefit we have found that this also gives your employees the opportunity to create a networking community, in essence a think tank environment. This also can add an increase of interaction amongst various departments within your company that share their ideas during their commute time together. This will also give your company the ability to create an area of employee retention that can allow you to develop key members towards long term growth into upper management and other areas of advancement.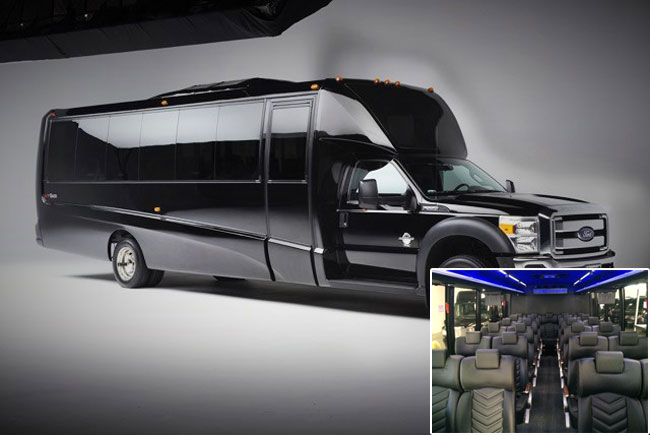 Another major benefit to your company through an Employee Shuttle Program is that it gives you added environmental integrity within your business community. Your company has the ability to market itself as an environmentally conscious and pro-active community leader. You are doing so on a global level by decreasing emission pollution which cuts down on global warming and on a local level you are actively addressing vehicle congestion and reducing the vehicles that would require the possibility of additional parking facilities in your area and allowing those funds to be allocated towards areas of community improvement.
Employer benefits
Extra 1+ hours of productive work from your employees
Employees arrive to work not stressed out from driving in traffic
Keeps employees very happy – a great perk to attain and recruit top talent
Improves employee retention
Increases employee productivity
Reduces your company's carbon footprint
Employee benefits
Relax and get work done while someone else is driving and dealing with the rush hour
Enjoy luxurious interiors and Wi-Fi connectivity, making your commute a convenient time to charge up your phone, do work, catch up on email, etc.
Time saver; you get the chance to get caught up on the latest events without getting interrupted, riding in comfort and style
Most employers pick up a part or all of the cost
Aside from these benefits, Cloud 9 Employee Shuttle services utilize a fleet of eco-friendly, luxury vehicles, allowing employees to enjoy their commute to work in safe, reliable, and luxurious vehicles. Wi-Fi, USB ports, Satellite TV, Bike Racks and GPS real time tracking can also be added to your employee shuttle program.
Some Bay Area Companies that have seen the benefit of introducing Employee Shuttle Programs are.
Verizon
Google
EBay
Yahoo
Symantec
Call 1-800-591-9499 or fill out the RFP form today to inquire about how Cloud 9 can add your company name to the growing list of companies who have benefited by introducing their company to the Employee Shuttle Program.